This website has some of my writing and creative work, including articles about music, languages, translating classics of Italian literature into English,  and more.
This is Jazz on Radio Morcote International
This is Jazz is my weekly radio show of jazz music, heard on Radio Morcote International, Sundays at 8pm in Western Europe, which in the US is Sundays at 2pm Eastern time and 11 am Pacific time. The show repeats on Wednesdays, 9pm West EU / 3pm Eastern / noon Pacific. This show simply answers the question, "What is Jazz?" with music. Radio Morcote International is based in Morcote, Switzerland and has a worldwide online audience.
To listen to the show:
1) The live show on Sundays and Wednesdays, visit the RMI site and click the orange "Listen" button, or download their app, or find RMI on TuneIn or lots of other similar channels including Swiss cable.
2) Each weekly show is on the RMI website, from the Sunday broadcast time until the next episode airs (updated most weeks, at least). Visit the "podcast" page at the RMI website to listen to the current show at any time on demand, 24/7. Scroll down to find This Is Jazz.
This Is Jazz show 130: Suggested Songs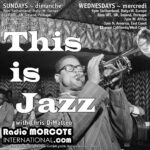 Here is a show inspired by some friends, some who were interested in singing certain songs, and some more selections from Vittorio's cassette collection. Its original air date was Sunday Jan. 22, 2023.
Ain't Misbehavin' by Fats Waller and Embraceable You are two great songs for singers, not just players. Heart and Soul is a notorious song among young people with their first piano lessons, in the US at least. Unfortunately its chord pattern of '1-6minor-4-5′ became a kind of demented mantra of kids who had lessons but were never going to learn to play. We hear the original recording from 1939.  After Embraceable You, Quasimodo is Charlie Parker's bebop adaptation over the chord changes and form of Embraceable You. You can hear both Miles Davis and Dizzy Gillespie on this recording, and it is easy to tell them apart. Miles' solo is more melodic uses longer notes, while Dizzy's solo has his kind of fast-moving sixteenths and other stylistic traces.
The two Carmen McRae songs and the two by Tommy Flanagan all come from Vittorio's collection of jazz on cassettes. He was the father of some friends of mine and I like the fact that he and I both collected jazz on cassettes, back when cassettes were popular. These four songs were on some of his playlists.
Ain't Misbehavin', Fats Waller
Ain't Misbehavin', Louis Armstrong
Pretty Lil, Jelly Roll Morton
Sophisticated Lady, Billy Eckstine
Lulu's Back In Town, Fats Waller
Sophisticated Lady, Duke Ellington
Heart and Soul, Bea Wain & Larry Clinton (1939)
Embraceable You, Sarah Vaughan
Quasimodo, Charlie Parker
Donna Lee, Lee Koonitz & Wayne Marsh, Kenny Clarke
All The Things You Are, Carmen McRae
The Man I Love, Carmen McRae
Tin Tin Deo, Tommy Flanagan
Cousin Mary, Tommy Flanagan Trio
Extras:
Big cathedral bell:
Radio Morcote International liner:
This Is Jazz Propaganda Syndrome promo & show opener: