Here are some samples from a weekly call-in segment that I do (in Italian) on Radio Azzurra FM in Novara, Italy.
La buona domenica del lunedì mattino • Radio Azzurra FM, Novara, Italy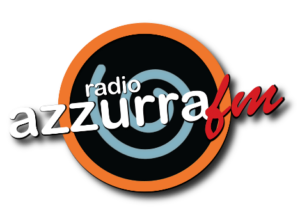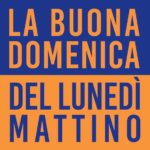 I named the segment "La buona domenica del lunedì mattino" which means, "The Sunday Greeting for Monday Morning," because we do the call at a few minutes after 11pm Sunday night in L.A. when it is just past 8am Monday in Italy. It is a segment in Radio Azzurra's morning show, where I appear on the phone for about 8 or 9 minutes.
Sonia Frassei is the host of the morning show. Usually she will ask me what is happening in Los Angeles, such as cultural events or stories that are in the news, or about what happens to Italian things when they reach America, like food, terminology or people's habits. We talk about anything, big issues or little details. Here are the audio tracks of our weekly shows.
La Buona Domenica del Lunedì Mattino
We continue to do weekly shows, the last one was this morning, Monday Dec. 18, 2017, Novara time, or Sunday night Dec. 17 in LA. Due to a failed drive we lost several recordings since July. Soon we will return with some recovered files and new recordings. 
July 12, 2017 – Trump Russia trouble; recording Sonia's spoken English, for analysis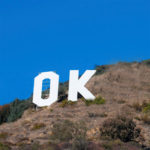 We wanted to continue our recent theme of discussing how we learn languages, but given the importance of the news of the day, we had to mention the rapidly developing story of the Trump campaign's complicity with Russians government agents during the last election campaign. I described how the scandal is coming into focus more and more with each new revelation. Then, before the end, we agreed that Sonia would make a recording of herself speaking English, so that I could use it to help her correct any mistakes she might make.
---
July 3, 2017 – How I learned Italian and how Sonia learned English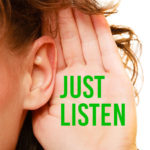 Sonia asked me to describe how I learned Italian so well, so I told her the story of how I studied French in high school from the Latin teacher who taught us about grammar, then I took Italian courses at UCLA followed by a summer of study in Florence, Italy. Then she described her own experience learning English.
---
June 28, 2017 – Il Palio di Siena and Measure for Measure at the Free Shakespeare Festival in LA

On that Sunday, the Palio di Siena was run. It is a horse race that is contested among the 17 contrade, or wards, of the city of Siena and it has been running twice every Summer, most years, since the thirteenth century. I described my experience at the Palio when I was a student and saw a very exciting race. Then I told Sonia about a production of Measure for Measure by "Shakespeare" which I had seen that day in Griffith Park in Los Angeles, part of the Free Shakespeare Festival produced by the Independent Shakespeare Company of Los Angeles, www.iscla.org, I told her how much I enjoyed the play and about the high quality of the production.
---
June 26, 2017 – The Italian "Maturità" High School Exam, US College Admissions, Language Study

We skipped a week on Monday June 19 because Sonia, who is a middle school teacher, was participating in the exams that are administered to students for promotion to high school. Since these national exams are such a big deal for Italian students, Sonia asked me to describe what kind or exams American students face and if they are similar to the Italian system. I explained that the American equivalent was the college admissions process for high school students who want to go to colleges and universities here. Then Sonia asked me about language study and we talked about her experience earning English.
---
June 12, 2017 – An original play at the Hollywood Fringe Festival and two recipes for gelato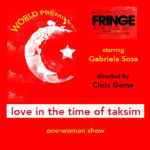 Sonia asks me about a performance of an original play I had seen on Sunday, as part of the Hollywood Fringe Festival, which has 375 different works in over 2000 performances in dozens of small theaters around Hollywood. This play is called "Love in the Time of Taksim" written and performed by Gabriela Sosa. I told about the play and how much I enjoyed it.  In this one-woman show, she tells about being interested in fighting climate change and about having a crush on Al Gore since she was a kid. She books a trip to Istanbul for a training conference with the former VP, hoping to meet him but instead she finds herself with another man in the midst of the riots that took place in Taksim Square that year. Before closing I share two recipes for gelato, one with frothy orange juice and the other with flavors of French Toast.
---
June 5, 2017 – A local production of Pericles by "Shakespeare" and more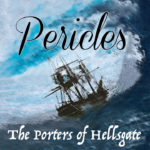 This week I started by describing the first two games of the NBA Finals between the Golden State Warriors and the Cleveland Cavaliers. So far, it's all Golden State. Then Sonia asked me to talk about the play I had seen a few hours earlier, which was a production of Pericles by the author known as "William Shakespeare" who was probably actually Edward De Vere. (We put the Shakespeare authorship question or SAQ aside for another time.) I told her about how Los Angeles is full of actors and small companies that produce everything from classics to new original plays. This company is called The Porters of Hellsgate and their goal is to be the first local company to produce all of the Shakespeare canon and they are more than halfway there. Finally I told about some gelato that I had made.
---
May 29, 2017 – Memorial Day, heavy politics, the NBA Finals & Artusi's meatballs.

First, Sonia asks me about Memorial Day which I explain is our national holiday to remember those who have sacrificed their lives in military service. I tell her about the Condor Squadron, a group of former military pilots who fly a handful of World War Two fighter planes in formation around Los Angeles on national holidays. Then, since we banned politics from the show several weeks ago, I thought it was time for a quick update to tell about the heavy political atmosphere. Then Sonia asked me about the NBA finals, so I described the Warriors and Cavaliers and set up the finals update for next week. Finally I told Sonia about success of the delicious meatballs "polpette" that I made from the Artusi cookbook.
---
May 22, 2017 – A Return to the Autry Museum for some Western Music, then, cooking with Artusi
First, I told Sonia about another visit I made with my family to the Autry Museum of the American West, to hear the monthly performance of the Western Music Association. The members gather at the museum to play traditional and original Western songs with an occasional reading of cowboy poetry. I told her about the songs and the performers, who do it as a labor of love. Then, Sonia asked me what's going on in the kitchen at home and I told her about how I was reading, translating and practicing recipes from Pellegrino Artusi, who lived from 1820-1911 and who published the first great modern Italian cookbook in 1891.
---
May 15, 2017 – The American West in Italy, Tex Willer and the Autry Museum in Los Angeles
This week, continuing our theme of how our two countries perceive each other, I talked about the Italian comic book character Tex Willer, a Western good guy hero who is very famous in Italy but who is not known in the USA. When I taught English in Italy, my students assumed I knew Tex Willer, but in fact I only learned about him from them. I described how our cowboy heroes include Wyatt Earp, Roy Rogers and especially Gene Autry. Then I explained to our Italian audience how Gene Autry founded The Autry Museum of the American West in Los Angeles and I described some reasons why Italian tourists should add this museum to their itinerary.
Here is a PDF with a transcript and English translation of this episode: BDDLM_May_15_transcript_and_translation.pdf
---
May 8, 2017 – Two views of California: Santa Rosa in Sonoma County wine country and the local parish

We're sorry for the poor sound quality this week which is due to a technical accident. This week I gave Sonia and our listeners two snapshots of life in California. First, I describe my recent visit to  Santa Rosa, California, in Sonoma County, north of San Francisco. This beautiful region resembles Novara in some ways; both regions are naturally beautiful and produce a lot of wine and cheese. Then I describe the local parish fiesta, with a description of one feature of American society that Italians would not at first recognize, that is the institution of Catholic parochial schools. Italians are used to having a parish for every neighborhood but in Italy they do not run schools, so this is worth noting for them to understand American society a little more.
---
April 19, 2017 – Some English words used in Italian but with different meanings; Panettone at Easter

Since April 17 was Easter Monday, which is a holiday in Italy, we did our call on Wednesday the 19th. At first we talked about the wind and the rain, then Sonia asked me about a couple of English terms that are used in Italian, but with meanings that are slightly different than their English meanings. Flipper is the Italian word for the game of pinball, which comes from the name of the flippers that you operate with the buttons on the side of the machine. Then, the Italian word "il jolly" is the word for for "the jolly joker" in a deck of cards, or for any case where a "wild card" is used. Then we talked about the panettoni on display in the local Italian store.
---
April 12, 2017 – Christmas Foods at Easter?  And, is music for everyone? (Yes it is!)

I gave an update on the panettoni that were on sale in the local Italian grocery store, where they didn't understand the absurdity of that to an Italian observer, because it is Easter and in Italy, panettone is a seasonal Christmas product.  A store clerk said they sold them year-round, even if they are past their expiration date. Then Sonia asked me about music education in the USA and I told her how music education is of high quality where it is available, the question is whether an individual school or district has a strong music program or not. I said that music is for everyone, not just those who play professionally or who win contests.
---
April 3, 2017 – Pizza in southern Mexico with grasshoppers and a Star Wars concert.

Since I had made an interesting pizza discovery, and styles of pizza are a recurring subject of ours, I started by telling Sonia about how my friends, two Latin American history professors, told me about pizza in southern Mexico. It is called "piksa" there. They also serve it with "chapulines" which are grasshoppers and the word comes from "chapolin" in Nahuatl, the Aztec language. Sonia then told me about the concert she would attend that evening, where an orchestra from Milano was going to play John Williams' music from Star Wars. We closed the segment with me telling her about having heard a similar concert at the Hollywood Bowl with the LA Philharmonic.
---
March 27, 2017 – An American play by an Italian-American author and actress; Billy Elliot in Italy

This week, Sonia and I told each other, and our audience, about two plays that we each saw in our cities. She saw an Italian production of Billy Elliot in Novara and I saw "Italian Bred" by Candice Guardino, a one-woman show that was playing at the Colony Theatre in Burbank, California (which is an independent city in the Los Angeles area). Sonia told me about the cast, the music and dancing in the show she saw. I told her about how much I enjoyed "Italian Bred," an autobiographical show about growing up Italian-American in Staten Island, New York. (The recording got cut off a couple of minutes before the end of the episode, so if we are able to get that last bit of audio I will add it to the track at a later time.)
---
March 20, 2017 – Foreign language study in Italy and the USA and Arts Integration in schools

We continued our conversation about how we study foreign languages in America and Italy, which is one of our recurring subjects of interest. I told Sonia about how our methods are aimed at developing students' practical ability to speak rather than simply learning about grammar, and Sonia (who is a middle school art teacher) told me how Italian schools start foreign language study in elementary and middle schools, but only a couple of days a week at that level. We also agreed on the value of Arts Integration, using Art and Art History to enrich foreign language study.  Then Sonia changed the subject back to food, and we talked about the importance of the art of slicing Italian meats, using as an example a slice of mortadella that, due to a misaligned blade, came out thick on one end and wafer thin on the other end.
---
March 13, 2017 – The Italian perspective on the "great debate" over pineapple on pizza

I wanted to know what Italians think about pineapple on pizza, so I told Sonia about the light-hearted debate between people who love pineapple on a pizza and those who abhor the very idea. She mentioned that pineapple is accepted on pizza in Italy, but really only when it comes with prosciutto crudo or prosciutto affumicato di Praga (cured ham or smoked ham called 'Prague Ham' in Italian) which is acceptable to Italian tastes as a variation on the theme of serving prosciutto with fruit, such as melons or figs. They call it Hawaiian pizza and it is on many menus in traditional Italian pizzerie*. Otherwise, for Italian pizza fans, pineapple on a pizza would make no sense. Later Sonia asked me to tell about how Americans study languages in schools, and we left that subject to pick up in our next program. (Pizzerie is plural for pizzeria. The English plural would be pizzerias.)
---
March 6, 2017 – "Baloney," an American term of Italian origin, and some moldy cheese

I introduced the American term "baloney" meaning nonsense or "B.S." which helped introduce Sonia's question about the different kinds, and qualities, of salame made in America. Then I told her about some cheese I found in an Italian grocery store, which had the wrong kind of mold on it, as an example of how Italian food products are not always completely understood in America.
---
February 28, 2017 – California wine and the fresh egg pasta that we made the day before

Sonia had Federico in the studio with her, to cover the Oscars but they were more interested in what we made for our Oscars dinner. I talked the fresh egg pasta we had made the day before with eggs from some backyard chickens. I described the excellent Zinfandel wine (called "Primitivo" in Italian) that we opened that night, from the Seghesio winery in Sonoma County, California. At the end, Sonia mentioned La La Land and  I gave a personal opinion about what I liked and didn't like about the movie.
---
February 20, 2017 – Politics fatigue

Sonia opened by asking me about the new president so I told her a little bit about our feelings and reservations, then about some people I know who are thinking about leaving the country, or not coming back. Then I explained the term "alternative facts" which was widely covered (and ridiculed) in the American media but which her audience in northern Italy may not have heard about or understood. Then I asked her if we could please speak about any other subject and she agreed to begin with the Hollywood awards next Sunday.
---
February 13, 2017 – Music festivals and awards on TV, plus a variation on a traditional Italian recipe

The Italians just finished a week of the Sanremo Festival, a week-long pop music competition that takes over Italian TV every evening up to the final on Saturday. Sonia asked me whether it gets any attention here and I told her it does not, then we mentioned the Grammy awards which had just finished a few hours before, but only in passing. We then moved on to the "Expression of the Week" which this week is "dumpster fire," I explained its meaning in the context of current political events. Then Sonia asked me about an Italian recipe that I made, spaghetti all'amatriciana, in a pre-colombian "white" version, i.e. without tomato or red pepper. At the end of the segment, you get a peek "behind the scenes" since while a song starts playing on the station, Sonia was still on an open mic so we can hear her talking to me over the music.
---
February 6, 2017 – The "American Football" championship game and the term "bowl" for a big game

The Super Bowl (the National Football League championship game) had just ended a few hours earlier and Sonia asked me to tell her listeners about it. The Italians call our brand of football "American Football" to distinguish it from the game we call "soccer" here. First I explained to her the origin of the American English term "Bowl" for a big football game. Then I told her that the game feels like the end of the holiday season to me. I talked a little about how the game was won and lost, then Sonia mentioned that Valentine's Day is coming and that we would talk about that next week.
---
February 1, 2017 * – The two kinds of Italian food in the USA, traditional and modern

Sonia asked how Italian food is perceived in the USA, so I explained the two kinds of Italian food in America — the traditional "spaghetti and meatballs" style of the first immigrants, primarily from the south of Italy, then, the modern style which would be a lot more recognizable to Italian people today — and how an Italian restaurant here will do one or the other style but practically never both. Then Sonia asked about the Super Bowl, so I told her one key thing about each team, then she predicted that whichever team wears white will win the game.
* This time we spoke on a Wednesday morning in Italy, 48 hours after the usual time, after we had technical difficulties the previous Sunday.
---
January 18, 2017 – Report on UCLA Italian Dept. conference "Land and Sea"

On a rainy Sunday night in Los Angeles I tell Sonia about what I learned while attending a conference the day before, at the UCLA Italian Department, where several graduate students and a few professors talked about the broad subject of "Terra e Mare" or "Land and Sea" in Italian literature, cinema and dance. I told her about two of the presentations that were most interesting to me. Then Sonia changed the subject to fast food in California in the 1950s since she had just read a biography of the founder of McDonald's. When she mentioned automobile design of the same time, I told her about the people who gather at Bob's Big Boy in Burbank every Friday night with their restored cars mostly from the '50s – '70s.
---
Talking about the US Election on the Radio in Italy
Radio Azzurra FM in Novara, Italy invited me onto their morning show, on November 9th, 2016, to give my comments about the election, live on the air. The segment was recorded shortly before the final results were announced. I'm sorry about the poor sound quality at the beginning, it gets better about one minute in.
Intervento su Radio Azzurra per l'elezione americano
Sono stato invitato a parlare per telefono in Radio Azzurra FM di Novara, nel programma del mattino del 9 novembre, per dare il mio commento a caldo, dal vivo in onda, sull'elezione presidenziale americano. L'intervento è stato registrato circa un'ora prima del risultato finale. Mi dispiace per la scarsa qualità sonora nel primo minuto circa del primo intervento, ma si migliora dopo circa un minuo.
---