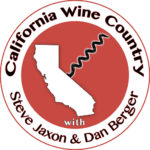 I recently finished launching the California Wine Country podcast, for my clients at Vicario Productions. The podcast website is here and it can also be found on iTunes, Android, Stitcher (any day now) and more. The podcast is recorded live on the radio Wednesdays at 5pm Pacific time, so the podcast has all of the spontaneity of a live show and never sounds "canned." The host is Steve Jaxon and his co-host is Dan Berger, a widely known wine expert. Read all about them and the podcast at its website.
The mechanics of podcasting are not hard to manage. What is necessary and what makes a podcast worth listening to, of course, is great content, and this show sure does deliver that. The radio show is fun to listen to and very informative. It is produced by Steve Jaxon, Mike DeWald with co-host Dan Berger. We simply place the slightly edited audio into the podcast platform. The guest list on this show is a who's who of great wine producers. We encourage guests on the show to promote their appearance on the radio and podcast to their online audiences and in any of their marketing activities or publications.
Here is the audio player of the episode of August 9, 2017, with Rex Pickett, author of Sideways, and Trevor Durling of Beaulieu Vineyard.