This is Jazz on Radio Morcote International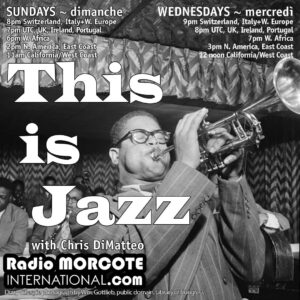 This is Jazz is my weekly radio show of jazz music which I produce and present, on Radio Morcote International, which is based in Morcote, Switzerland, very close to Italy. The show answers the question, "What is Jazz?" with music.
It plays Sundays at 8pm in Western Europe, which in the US is Sundays at 11 am Pacific time and 2pm Eastern time. There is also a replay, Wednesday evenings at 9pm in Western Europe, which in the US is 12 noon Pacific time and 3pm Eastern time. The station also usually puts the current weekly show on its website, on this page, so you can listen there at any time during the week.
To listen to regular live broadcasts, visit Radio Morcote International and then click the orange "Ascolta" (Italian for 'Listen') button on the home page. Or, download their app, or look for Radio Morcote International on the TuneIn app and other similar places.
This is Jazz Sample Shows
Show 11, Oct. 4, 2020:
Show 11 was dedicated to the music of Eric Dolphy, heard playing flute, alto sax and bass clarinet.
Show 90, April 10, 2022
This show features eight standards, each performed by Sarah Vaughan and also by one or two other artists.